Do you have a recommendation for somewhere we don't have listed? If so please send us the details using this form. You don't have to give personal details but it would be nice to know it is a genuine recommendation.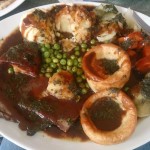 ---
A page will be added for all recommendations and a link added to the list.  Bar and Restaurant owners can then then send any information they would like adding, such as price, opening hours, email, phone number etc.
Please check our 'Best Place for Sunday Lunch' page to make sure your suggestion isn't already listed.
[si-contact-form form='2']