Special Offer for 4 people.  3 days at Granadilla Hostel, 4 days at Los Abrigos Hostel
Private room for 4  €100 pp per week
Places to Visit in Granadilla Tenerife
---
Montana Roja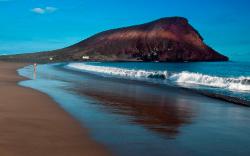 ---
Cueva del Santo Hermano Pedro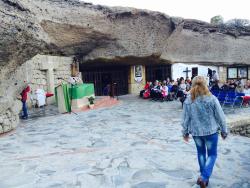 One of Pedro's jobs was tending to the gardens. He clearly had green fingers in the extreme as he successfully planted an esquisúchil (bourreria) tree; a notoriously difficult tree to grow.
Pedro's tree blossomed and some people who visited it found their illnesses were miraculously cured. Over time the esquisúchil became known as Brother Pedro's miracle tree. The magical tree still blooms today. A cutting was planted near the church in Pedro's home town of Vilaflor, but when we visited recently it didn't look as though it had survived. Sadly there aren't any green fingered descendants of Brother Pedro in Vilaflor.
---
Rancho Bonanza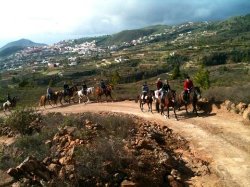 … offer exceptional adventuon their horse rides where you will enjoy active learning and participation. They trust their horses, as they trained them themselves and respect each one of them as a friend who takes us to a deeper understanding of nature – for any level of rider there is a horse – for beginners as well as experienced riders.
---
Canyon Tenerife – WATERFALLS CANYON
The aquatic canyon of the island, all year around. 7 abseils under water with the last one of 35m. Stunning views of the ocean and of the island of La Palma. You will learn how to abseil by yourself to be ready for the last drop, a narrow 35m waterfall. Easy and challenging canyon for a first experience in this activity. Between 2 and 3 hours of canyoning with two departures a day : 9am and 1pm.