Booking directly with the owner seem like a bargain, but there's a greater risk of fraud. There are always nasty people waiting to take advantage.  Sites like Owners Direct have had some dreadful press about scammers renting villas they don't own.  However, a few simple checks make your booking more secure.
The Villa
1. Check how long the property has been advertised. If you are on a Facebook group ask other group members if they know the renter.
3. Use maps.google.com to check the location of the villa then use Street View to see if the appearance of the villa matches up with what you are seeing.
4. If the price is simply too good to be true, it may well be-  It could just be a last minute cancellation but be extra vigilant.
Villa Tinali, known to us and very popular
The Owner or Agent

4. Easy enough for scammers to advertise properties they don't own, take deposits, then  disappear with the money. Talk to the owners on the phone They should be able to talk confidently about the property and the area, and some facts will be verifiable. Ask them for their  address,this too should be verifiable.
5. Check what they say online  or look for any complaints about them.
Paying
6. Check the written contract before handing over any cash. Be careful with security deposits.  It is suggested that 10 per cent of the weekly wouldst be unreasonable, more than 20 per cent might be considered excessive. Some sites offer the option of taking out damage-waiver insurance.
7.  Do remember though that sometimes you are talking about owners personal holiday homes and they may well be prepared to lose your booking rather than risk a wrecked villa.  Use your judgement on this one.
8. Avoid money transfers like Western Union, which offer little protection. Credit card is safest. PayPal is good if your account is linked to a credit card such as Mastercard, – don't pre-load your account your PayPal  before you pay for the villa though, it must go through your card.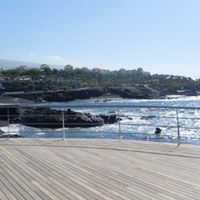 On site
9. Check the villa very carefully on arrival, especially for damage to more expensive items. Alert the owner of the villa, and take photographs of any damage.  Notify the owner immediately.
10. Be sure to ask when any security deposit will be returned.  If not on leaving the villa, ask why. If not returned, ask for proof of the cost deducted.