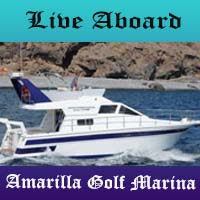 Boat Holidays – A holiday with a difference
Slideshow
Prices start at 150€ for your stay aboard our boat, rising to around 300€ (depending on what activities/excursions you choose. Diving, Fishing, Golfing, Horse Riding, Sailing, Walking) per person per week, sleeping 4 to 6.

Your Yacht Accommodation
Whether you want to follow your dream activity full time or ring the changes with Tenerife's many options or simply keep it relaxed with excursions to suit the whole family, let us provide you with boat accommodation at Amarilla Golf with the freedom to mix and match your  activities to suit.
Why is it cheaper than others?

Boat Holidays Live Aboard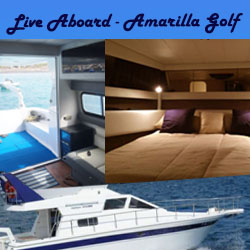 Holiday Living Aboard Yacht Moovers II
Sleeping 4 to 6 people, staying on Moovers 11, moored at Amarilla Golf Marina (minimum 4 people), we will help you plan excursions or leave you in peace looking forward to a relaxing week at the marina,
Sit watching the water and boats coming and going, a glimpse or two of the occasional tall ship, or go out every night to the many nearby restaurants and bars – it's all down to you with affordable options living aboard our 11m yacht.
Weekly Boat Accommodation Live Aboard 150€ pp
Important Note: You cannot take the boat out. It would not be possible at this price. It involves commercial licences, tourist licences, whale watching licence and so on, to say nothing of a huge hike in insurance. There are plenty of places that offer this but for a week it starts in thousands not hundreds. Just one part day would cost more 🙂 We are able to offer the occasional holiday at this price because we use the boat ourselves the rest of the time, therefore offsetting most of the costs. (We are fully insured and tax registered for accommodation on the boat.)


Moovers 11 Slideshow