As part of the hostel community here in Tenerife, we not only offer you beds at our own hostels in Los Abrigos and Granadilla, but we will do out best to ensure those of you who are travelling around Tenerife have access to information about other hostels.
On our recommended list:
Granadilla Hostel in South Tenerife is not your typical Tenerife Guest House. It is a 100 year old Canarian house, all ground floor, where a cosmopolitan mix of nationalities and ages, locals, ex-pats and holidaymakers, all come together after the days activities to eat together or enjoy a glass of wine or a beer.  Karaoke on Sundays after the BBQ is not to be missed.
Los Abrigos Hostel, moments from the sea in Tenerife South is located in a small, peaceful fishing village with a wide range of restaurants on the Atlantic coast. Just 10 minutes from Tenerife South Airport (TFS) this small hostel style guesthouse offers clean, comfortable beds for on a budget in a prime location in Los Abrigos. Airport collection for a small fee. With a small quiet beach at one end, small coves at the other, the harbour with its many famous fish restaurants nestles between. Great base for exploring the island or hiking. 10 minutes to the coast of El Medano, 15 minutes to Tenerife South Airport.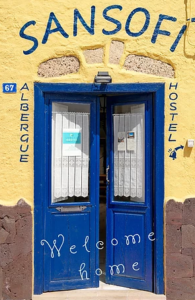 Sansofi Hostel, San Miguel, offer private and shared bedrooms, a reception lounge and a living room with TV and games where you can socialise with other travellers. The kitchen is well equipped and shared with other guests. The bathrooms are also shared and they are provided with hairdryers and towels. There is also a large rooftop terrace. From one of the bedrooms, you have direct access to this terrace but you can also reach it from the reception lounge. Take your breakfast up there in the morning, sunbath during the day or have a glass of wine in the evenings:
The view down to the coast is amazing!
Los Amigos Hostel is a cozy villa between El Medano and Los Abrigos. It is located in a relaxed area far from the mass tourism.
Free buffet breakfast *All You Can Eat!*
Free WIFI!
Social Sitting Area!
Free common PC!
Free dorm lockers
Beds with reading lights & electric sockets!
Free bed linen !
Excursions and events!
Free car parking!
Delicious meals!
Fully equipped guest kitchen & fridge!
Mini shop with snacks & cold drinks!
 Wonderful people 😉