Whale & Dolphin Watching in Tenerife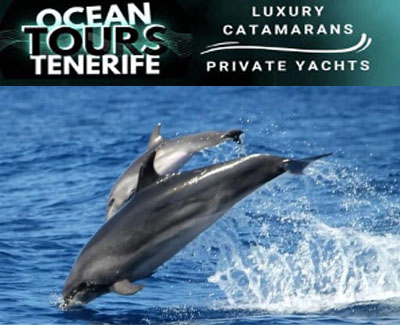 Make  sure you choose the right tour operator and the type of trip that's right for you. Ocean Tours have a number of great options to see whales and dolphins. They also have an excellent reputation.
Best time of year for whales & dolphins in Tenerife?
That's an easy one. Tenerife has a great climate all year round, especially in the South so any time is good for seeing whales and Dolphins.
Chances of seeing whales in Tenerife?
If you don't see whales on your trip you are either extremely unlucky or you chose the wrong boat trip. It's said that you will see whales 99% of the time. Of course you could be forgiven for thinking it's all about the dolphins but that has more to do with marketing than anything else.
Can you see really see dolphins in Tenerife?
In truth you are more likely to see whales than dolphins but the chances are still pretty good, estimated at roughly 60%. Again, choose you trip carefully. Take a smaller boat and avoid the party cruises. Trust me there is nothing more annoying than peacefully watching dolphins swimming and jumping out of the water only to see them frightened off by a boat full of alcohol laden party-makers with loud music.
Can I swim with the Dolphins?
'Fraid not. Strictly forbidden. Also bear in mind that if you are offered something privately on the cheap, you need to be very careful that they have all the proper licences in place. If you get caught out it's  fines all round. In Tenerife it's taken very seriously. And 'I didn't know' won't work!
If you want a close encounter with dolphins, there are water parks where you can do this. If you love the idea of interacting with Tenerifes marine life then snorkeling may be a good choice for you.
El Puertito de Armeñime is an ideal place for diving and snorkelling.