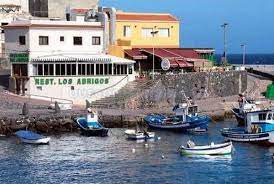 Los Abrigos is ideal for lovers of seafood, having some of the best fresh fish restaurants around it's harbour and offers an authentic taste of Tenerife. The nightlife of Playa de las Americas and the beaches of the Costa Adeje are approx 15 minutes drive away and the mountain village of Vilaflor, gateway to the Teide National Park is approx 30 minutes drive.
Our yacht is moored a short walk away at Amarilla Golf Marina.
1. Restaurante El Cangrejo Loco
Calle de la Marina 25
Phone number: 922 74 91 76
Nice and cozy place where the owner cares about the guests himself. Our fish was fresh and tasty, good value as well. We ll come again.
2. Vista Mar
Calle La Marina, 32
Phone number 922 170 184
Stopped in while staying with my sister on the south of the island. This is always one of my favorite restaurants to eat when we are in this area.
3. Restaurante Los Abrigos
Calle la Marina, 3
Phone number 922 170 264
I can't go in tenerife without a visit in that restaurant. They have their own boat to fish ! That's say how fresh you will find your fish!
4. El Mirador de los Abrigos
Calle la Marina, 7
Phone number 922 749 448
Great seafood place. We shared a freshly caught fish between the two of us which was filleted and plated table side. Glazed with an amazing garlic.
5. Titos
Calle La Marina, 48
Phone number 922 170 23
6. Perla del Mar
Calle La Marina,
Phone number 922 170 014
Very good place if you are a fish and seafood lover. The restaurant is very close to another one (Restaurant Los Abrigos).
7. Tasquita del Puerto
Calle de la Marina, 32
Phone number 822 100 346
8. Restaurante Terraza Bahía
Calle La Marina, 40
Phone number 922 749 856