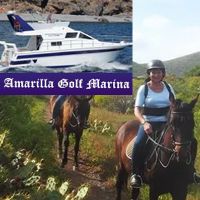 If you choose to stay on Moovers 11, moored at Amarilla Golf Marina (minimum 4 people) we will liase with your recommended riding school to ensure your holiday meets your expectations, whether that is hard core riding for the whole group, a more relaxed pace with Pitch n Putt for the family or maybe a mix and match holiday with family excursions or diving, golfing, walking – it's all down to you with affordable options living aboard our 11m yacht.
Sample Prices with 7 day boat stay:
Family in your party non-participating 150€ pp
3 x 2 hour treks (over 10 years old) 330€ pp
3 x 1 hour treks (over 4 years old) 255€ pp
3 x 1 1/2 hour treks (over 10 years old) 300€ pp
Lessons
If you are wanting to learn how to ride, improve on your Dressage or Jumping, (all levels children and adults) Sophie teaches both Jumping and Dressage to a high level. After training in England with 5 Star Eventers, Sophie then returned to work at home in Tenerife.
Even if you decide against staying on our boat. if you like to ride, get in touch with Sara or Sophie (the only British owned and managed trekking center in the South of Tenerife).
Horse Riding Adventures in Tenerife
Other excursions can be arranged. Please ask for a quote if you have specific requirements.