Jump straight to free tour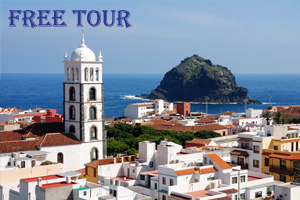 The picturesque town of Garachico is located to the northwest of Tenerife and considered to be the most beautiful town on the entire island. Garachico was the main commercial port of Tenerife mainly due to the trading of wine and sugar and it is also thought to have played a role in the slave trade between Europe and America.
Where to Eat in Garachico
One of Garachico's traditional dishes is the 'guiso de vieja"' a popular white rock fish. Other fish found in many of Garachico's restaurants are grouper, mackerel, tuna and sea bream, not forgetting octopus and shellfish.
You will often find goat on the menu and, if well prepared, tastes somewhat like lamb and is delicious. Do check out reviews though, especially if you are trying goat meat for the first time. Badly prepared, it can be mostly bone and sinew.
Free Tour of Garachico
An old commercial port, colonial history and a rich architectural heritage await on our Free Walking Tour of Garachico.